Água Hotels Alvor Jardim received HACCP Gold certification
Água Hotels Alvor Jardim received the certification "Foresee Gold Certificate of Food Hygiene Standards" attributed by Luso Cristal Consulting.
The certificate was delivered on June 8th  2022, by Luso Cristal Consulting to the team led by Director Soraia Abel, who leaves her testimony:
"Since February 2020 when I started at Agua Hotels Alvor Jardim and in this atypical scenario that has been the past few years, there has been a constant effort to increase the quality of service provided. Fortunately at this moment we have a motivated team that stands out as the great asset of this hotel. The awarding of Gold Certificate is the mirror image of all this effort. Thank you to Lusocristal for helping us to establish these standards of excellency and thank you to the whole team for this achievement!
This achievement was the result of the excellent results obtained in the application of the Food Safety Management System, fundamental principles of HACCP.
In addition to these principles, this certificate also respects criteria such as Cross Contamination, Cooking, Chilling and Cleaning – created by the Food Standards Agency in England.
Congratulations to the whole team!
Bookings
Email: booking@aguahotels.pt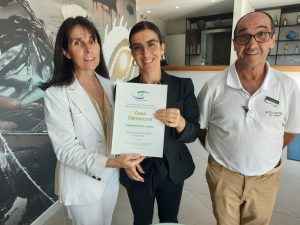 Categories: Água Hotels Alvor Jardim, Alvor, blog
« IV Pilates Meeting at the Água Hotels Mondim de Basto
June Special Offer – Água Viva Spa »